Squadron Leader John Rowland dies
---
12th January 2015
Squadron Leader John Rowland - a heavy bomber pilot who was awarded the DFC twice in three days during operations over Germany in 1943 - passed away on 22 November 2014, just short of his 95th birthday.
John Rowland made his first flight with the RAF Volunteer Reserve on 1 October 1938 from Redhill in a DH60 Moth. He won a Prize Cadetship to the RAF College Cranwell and then posted to the School of Army Cooperation. He volunteered for 613 Squadron which had been formed shortly before the war started and was not yet fully equipped with Lysanders - half its planes were elderly Hectors. He later converted to heavy bombers and was posted to 12 Squadron at Wickenby flying Lancasters in June 1943. After he had flown 28 operations he was promoted to Squadron Leader. The last of his 50 bomber operations was to Calais, the town to which he made his first operational flight in the Hector in 1940. After the war John flew as an airline pilot with BOAC.
A full obituary entry for John Rowland is available here via The Telegraph. He completed his memoirs, Return Flights in War and Peace, in 2011.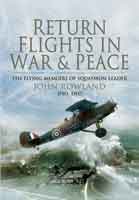 Back to Articles
---