Veteran author Dare Wilson dies, aged 95
---
1st September 2014
Pen and Sword author Major-General Dare Wilson sadly passed away earlier this week, aged 95.
Born in 1919 in Country Durham, Dare was commissioned into the Royal Northumberland Fusiliers in 1939. He saw action in France 1940 (Dunkirk), Italy and North West Europe (where he won his MC) with the Northumberland Fusiliers and later the Recce Regiment. He then served in Palestine and Korea and was picked to command 22 SAS, among other duties, during his 30-year-long Army career. He later took up a career in Conservation, and became Exmoor National Park Officer in 1973.
Dare has published several books with P&S, Tempting the Fates and With 6th Airborne Division in Palestine, describing his wartime experiences and his time in Palestine from 1945-1948, and in 2013, The General's Game Book, about his active sporting life.
Dare Wilson is survived by his wife Sarah, and two sons, Alexander and Peter.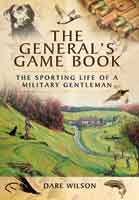 Back to Articles
---