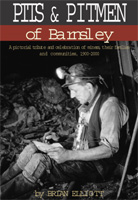 Barnsley Pits and Pit Men by Brian Elliott is a pictorial celebration of the men who worked in the pits and the society in which they lived. The time span is from Victorian times to the 1990's, and so covers the meteoric rise and subsequent fall of one of the nation's great industries.The vast majority of the many photographs reproduced in this book, are from the private collection of the author and have never before been published. A limited number of photographs from other collections have also been included to complete this pictorial record of Barnsley's great mining heritage. Included are many photographs of the now fast disappearing reminders of our localmining heritage. In addition, there are oral histories of the work and social memories of ex miners and their families.The style and content of this book offers a completely fresh insight into the lives of the men and women who worked and played within sight and sound of the many pits in the Barnsley area. Barnsley Pits and Pit Men is a pictorial tribute to and celebration of Barnsley's miners and their families. The bookshelf of anyone interested in the history of Barnsley and its people would be incomplete without this unique publication.
Perfect Partner
---
Changing Barnsley From Mining Town to University Town (Paperback)
Changing Barnsley looks at how Barnsley has evolved, through the eyes of the former Mining and Technical College on Church Street, which now hosts Barnsley's very own University. Covering the 75 years of its existence, it tracks the period from 1932, when the building was first built, until 2007, when the University was fully up and running. Built along the northern side of the Town Hall in 1932, on Church Street, the Building which now houses Barnsley's very own University has been at the centre of education in Barnsley since its construction. As the mining industry became more regulated and…
By
Cathy Doggett
,
Tim Thornton
Click here to buy both titles for £25.98
More titles by Brian Elliott
---
Customers who bought this title also bought...
---
Other titles in the series...
---
Other titles in Wharncliffe Books...
---
---