---
Pen and Sword have developed an unrivalled reputation for the quality and scope of its battlefield guides.

For those looking to understand battles in a bit more detail, then the Battleground series, now with over 100 titles in print, is perfect for the armchair historian or battlefield traveller alike.
YouTube videos are unavailable because you have chosen to turn off third party cookies for enhanced content. Visit our cookies page to review your cookie settings.
Crete
The invasion was launched to round off Hitler's Balkan Campaign against Crete in May 1941. The Island was important to Britain's control of the Eastern Mediterranean and Churchill was determined that the Island would be held. The British garrison was largely made up of New Zealand and Australian troops who had been evacuated from Greece, with little… Read more...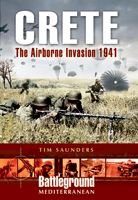 Related Product
---