---
Pen & Sword's new wargaming books will offer original sets of rules and supporting scenario books across a wide range of periods, plus more general books on various aspects of the hobby, such as modelling, painting miniatures and making terrain. They are commissioned and written by wargamers for wargamers. Whether you are a veteran gamer or a new recruit to this fun, fascinating and increasingly popular hobby, there is sure to be something here for you.
One-hour Skirmish Wargames
Many wargamers enjoy the challenge of skirmish games where, instead of the strategy of vast armies portrayed by traditional wargames, the focus is on the tactics of a small unit. However, skirmish rules are often so complex that it can take hours of rolling dice, consulting tables and recording data to recreate what would in reality be a fast and furious… Read more...
Related Product
One-hour Wargames
One of the biggest problems facing wargamers is finding the time to actually play. Most commercially available sets of rules require several hours to set up and play to a conclusion; some can easily swallow up a whole day or weekend. For many gamers this means that their lavishly prepared miniature armies rarely get used at all. Apart from time, the… Read more...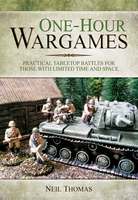 Related Product
---