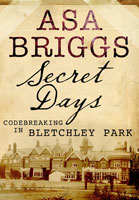 ASA Briggs Secret Days

(Hardback)

Codebreaking in Bletchley Park

World War Two Books All Frontline Books

By

ASA Briggs

Pages: 256
ISBN:
9781848326156
Published: 17th May 2011
Get ASA Briggs Secret Days for just
£16.99
by becoming a Platinum Member.
What's this?
+£4 UK Delivery or
free UK delivery if order is over £30
(
click here for international delivery rates
)
Order within the next 9 hours, 14 minutes to get your order processed the next working day!
The Bletchley Park memoir of Lord ASA Briggs will be one of the most important documents to be published in 2010. Lord Briggs has long been regarded as one of Britain's most important historians. He has never, however, written about his time at Bletchley Park.

The publication, which will coincide with Lord Briggs 90th birthday, is a meticulously researched account of life in Hut Six, written by a codebreaker who worked there for five years alongside Alan Turing and Gordon Welchman. In addition to discussing the progress of the Allies'code-breaking efforts and their impact on the war, Lord Briggs considers what the Germans knew about Bletchley and how they reacted to revelatory memoirs about the Enigma machine which were not published until the 1970s. Briggs himself did not tell his wife about his wartime career until the 1970s and his parents died without ever knowing their son's contribution to the wartime effort.

The book will be launched at Bletchley in May 2011, in the presence of other Hut 6 veterans and part of the proceeds will be donated to the fund to restore Hut 6 to its former glory.
Asa Briggs — distinguished historian, former chancellor of the Open University and vice-chancellor of Sussex — was there [at Bletchley Park] and is very much alive, as this gossipy and informative account shows.

The Spectator
There are marvellous illustrations in this book, marvellous anecdotes, such as the one about Hrothgar Habbakkuk, (which I am not going to tell you; read the book).... How fortunate we are that Lord Asa Briggs has so superlative a memory (and also that he kept a diary, which was absolutely forbidden!)'

Gwen Watkins, author of Cracking the Luftwaffe Codes
Without doubt, this is the most important book examining the work undertaken at Bletchley Park to be publish in recent times.

Britain at War magazine
Briggs is an engaging and amiable guide though the mysteries of wartime cryptography... a fascinating account of an outstanding young man and his time at a quite remarkable institution.

Roger Moorhouse in BBC History magazine
Hidden Gem!

The Oldie Review
Lord ASA Briggs served at Bletchley Park as part of the team who were breaking down the Axis codes and ciphers. Brigg's new work is the first account of life at the park during the war. The book describes the daily routine and also describes the overall administration. As such it will undoubtedly become of great value to future researchers. The book not only provides a good read but should also become a future source of reference. Strongly recommended.

Pennant
The memoir gives an interesting picture of the social life of Bletchley.

The Bulletin
The memoir gives an interesting picture of the social life of Bletchley.

The Bulletin
Frontline Books have published the Second World War memoirs of the renowned historian, Asa Briggs...the memoir gives an interesting picture of the social life in Bletchley...he also provides a useful histiography of Bletchley and a short history of the Bletchley Trust.

Military Historical Society
Lord Asa Briggs was made a Life Peer in 1976 as a most highly respected British Historian. Altogether (the book) can be described as a histiography of the place and as such will undoubtedly become of great value to future researchers. This is a book which not only provides a good read but should become a future source of reference... Strongly recommended.

PENNANT
An engrossing memoir of his own part in Hitler's downfall.

Military History Monthly
This lively account is a valuable addition to our understanding of its contribution to the Allied victory.

Times Higher Education
Its appeal is largely to those enthusiasts who collect and absorb all things related to BP.

Mathematics Today
Perfect Partner
---
ASA Briggs Loose Ends and Extras (Hardback)
Loose Ends and Extras is the last in a trilogy of books Lord Briggs has completed since his 90th birthday in May 2011. Following on from Special Relationships: People and Places, it deals with our relationship with time, and the differences between memory and history, in the context of his long and remarkable career. For example, as the official historian of the BBC, he worked closely with its legendary Director-General Lord Reith, and he compares the man he knew with the historical figure Reith has now become. The book also deals with 'Pasts, Present, and Futures' – there are many versions…
Click here to buy both titles for £35.98
Perfect Partners - Buy all 3 selected titles for £45
---
Buy all for £45.00 usual price £45.98, you save £0.98!
Customers who bought this title also bought...
---
Other titles in Frontline Books...
---
---