YouTube videos are unavailable because you have chosen to turn off third party cookies for enhanced content. Visit our cookies page to review your cookie settings.
Battle of the Bulge: Panzer Marche!
This is the first of a new series of DVDs that will build into a collection covering all the highlights of this massive and controversial campaign. One that caught the Allies off guard and was fought in terrible weather conditions by some of the best German and Allied troops fighting in the West. In this section we examine the background to the campaign… Read more...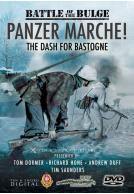 Related Product
---