---
The Dambuster Raid is one of the most iconic bombing raids that took place during WW2. A hand picked, international team of specialist low fliers were assembled to execute a daring low level raid which would strike at the heart of Germany's industrial regions.

Pen and Sword have a selection of titles which deal with all aspects of the operation.
617 Dambuster Squadron at War
No. 617 Squadron RAF Bomber Command is world-famous for its daring raids on the Mohne, Eder and Sorpe Dams, the Dortmund-Ems Canal and the attacks on the German ship Tirpitz. This book contains rarely seen photographs of the squadron's aircraft, crews and other behind-the-scenes operations. Each image is accompanied by a lengthy caption that convey… Read more...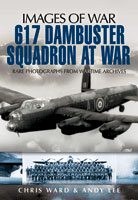 Related Product
---