Google Books previews are unavailable because you have chosen to turn off third party cookies for enhanced content. Visit our cookies page to review your cookie settings.
The Second World War upended many lives, disrupting patterns and routines and bringing an array of terrifying new dangers with it. For Jenny Nater, the war brought great sadness but also opportunity. Like many women left behind on the home front during the war, she found herself in an unforeseen scenario in which her talents could be put to an unexpected use. But her war was destined to play out almost entirely in secret.

Jenny served as a bilingual wireless operator in the top-secret Special Duties service (Y) at Dover, intercepting traffic from German surface craft in the English Channel and reporting it back to Bletchley Park (X). In this post she carried out important work for the war effort and also struck up a series of life-changing relationships, most notably with a Coastal Force Command Lieutenant, who was subsequently lost off the coast of Dover in tragic circumstances. The story of how their careers interrelated, both on land and at sea, makes for thrilling and poignant reading.

The memoirs also cover her time spent working for the American intelligence agency, the Office of Strategic Services (OSS), in Germany. It was whilst serving in this post that she would meet her husband, an OSS Officer and member of the Caterpillar Club. His account of Mosquito missions over occupied Europe, tracing, identifying and communicating with special agents on the ground, is included here in full. These memoirs not only add an important layer to our understanding of allied intelligence practices conducted during this conflict, they also tell the story of one woman's very private war and the opportunities, sacrifices and victories it encompassed.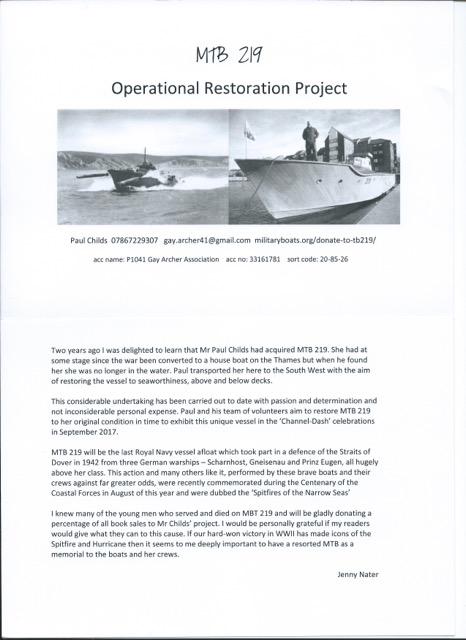 "Jenny's experiences as a bilingual wireless operator in the top-secret Special Duties Service (Y) at Dover throughout WWII are both refreshing and informational."

Read the review here

ARGunners.com
"Secret Duties of a Signals Interceptor" is a glimpse, often through very personal letters, into the life of a young woman whose activities as a WWII radio monitor, can make gripping reading.

The Spectrum Monitor, July 2020
The extraordinary life and work of Jenny Nater is laid bare in this brilliant set of memoirs - there are ladies still living who worked at Bletchley Park during the war, ladies whose duties during those years have never been revealed - I believe we are privileged to have Jenny's memoirs now to hand. Reads like a thriller in places... brilliant!

Read the full review here.

Books Monthly
Had this book only covered the Special Duties Service and its radio intercept stations, it would be a very important addition to the available knowledge on one of the most important but
covert parts of activity during WWII. The author has covered much more including details of RAF Mosquito squadrons and her later service for the OSS. Most Highly Recommended.

Read the full review here.

Firetrench
A good, interesting read.

Ton Class Association
As featured in.

BBC News Magazine
Customers who bought this title also bought...
---
Other titles in Pen & Sword Aviation...
---
---