---

---
Our True Crime imprint began with our well known and loved Foul Deeds & Suspicious Deaths series, which covers fascinating local true crime accounts from all over the country, dating as far back as the 1800's.

More recently we have expanded out to more general true crime titles, books that dig deeper into the criminal mind. Covering a wide range of crime, murders, hangings, Serial Killers, detectives, and the ever expanding Foul Deeds series, these titles will thrill anyone with an interest in this genre of book.
---
Quizzes

True Crime Quiz

Test how much of a dare devil you are and take the True Crime Quiz, with 10 gory and sinister questions to be answered! A quiz bound to appeal to all horror enthusiasts.

Start the Quiz

---
Mary Ann Cotton - Dark Angel
A female thief, with four husbands, a lover and, reportedly, over twelve children, is arrested and tried for the murder of her step-son in 1872, turning the small village of West Auckland in County Durham upside down. Other bodies are exhumed and when they are found to contain arsenic, she is suspected of their murder as well. The perpetrator, Mary… Read more...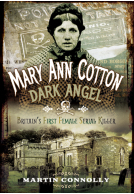 Related Product
Jack the Ripper: Quest for a Killer
For a hundred and twenty years, the identity of the Whitechapel murderer known to us as Jack the Ripper has both eluded us and spawned a veritable industry of speculation. This book names him. Mad doctors, Russian lunatics, bungling midwives, railway policemen, failed barristers, weird artists, royal princes and white-eyed men. All of these and more… Read more...
Related Product
---