Sale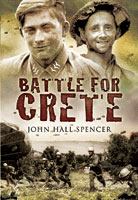 Battle for Crete

(Hardback)

Get Battle for Crete for just

£6.80

by becoming a Platinum Member.

What's this?

+£4 UK Delivery or

free UK delivery if order is over £30

(

click here for international delivery rates

)

Order within the next 10 hours, 6 minutes to get your order processed the next working day!
After two years' extensive research the author has written a thorough account of the political and military background to the German invasion of Crete and the bitter fighting that followed the first airborne assault on an island in history. The book tells of confused negotiations between the British and Greek governments; the misunderstandings between Winston Churchill's War Cabinet and commanders in the field; the near capture of the King of Greece; the lack of preparation by the defenders and the suppression of a critical post-battle report by General Wavell. There are vivid individual accounts of the fighting both during the invasion and the subsequent campaign and ultimate retreat and evacuation. The Royal Navy and RAF's contribution is well documented as are the roles of the German air force. Crete was a 'close run' campaign fought with aggression by both sides.
fascinating and detailed

Britain at War - September 2008
Before Crete became a popular holiday destination it suffered a tumultuous battle in the 1940's that left it's mark on the whole country. Battle for Crete describes the political and military prelude to the evacuation of British, Australian and New Zealand forces from Greece to Crete in 1941 resulting in the German offensive against the country. With chapters detailing everything from negotiations between Anthony Eden and the Greek Government, the Malene airfield and the famous retreat to the southern coast, the book ascends strongly through sharp prose and hard fact. John Hall Spencer puts his experience in the Royal Marines to great use and through his visiting of the actual battlefields focused upon in the book, gives an authenticity that leaves the book firmly in your mind.

John (Customer Review)
Customers who bought this title also bought...
---
Other titles in Pen & Sword Military...
---
---