---
The Battle of Dunkirk took place during the Second World War between the Allies and Nazi Germany. As part of the Battle of France on the Western Front, the Battle of Dunkirk was the defence and evacuation of British and Allied forces in Europe from 26 May to 4 June 1940.
The Last Great Cavalryman
Nearly 70 years have passed since October 1944 when Dick McCreery became the third and final Commander of the legendary Eighth Army in Italy – in succession to Monty and Oliver Leese. With his outstanding record as a fighting soldier and armoured tactician, it was no surprise to anyone that he was to be hugely successful. McCreery was commissioned… Read more...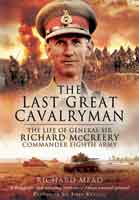 Related Product
---