A selection of some of history's best known – and lesser known – romantic scandals! From affairs to imprisoned princesses, delve into these salacious true stories of romance, rumour and wrongdoing…
New releases
New Release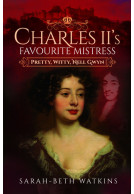 Charles II's Favourite Mistress (Hardback)
Pretty, Witty Nell Gwyn
Nell Gwyn, the most infamous mistress of Charles II, was a commoner raised from the dingy back alleys of London to the stage and into a king's arms. Hers was a true rags to riches story that saw a young girl rise from selling oranges to capturing the heart of a king. The Restoration period was one of change. After the troubled years of the English Civil War, it was time for pleasure, debauchery and entertainment with the 'Merry Monarch' restored to the throne.

Nell was one of the first actresses on stage; a loveable comedienne who wowed audiences with her wit and charm. She fell in love with Charles Hart (one of the leading actors of the time), had a torrid affair with Lord Buckhurst and ultimately ended up in the king's bed. She stayed on the stage for six years, but she stayed in the king's heart for seventeen – his only mistress who was faithful to him.

Set against the backdrop of Restoration London, this book charts Nell's life and that of her family and friends – from her drunken mother and troublesome sister to the most notorious wits of the age John Wilmot, 2nd Earl of Rochester and George Villiers, 2nd Duke of Buckingham. Nell had a generous heart and a mischievous spirit, and was friends with people from all walks of life. The only woman she really detested was another of the king's mistresses, Louise de Kerouaille, known as the French Spy.

This highly entertaining book will tell the story of Nell's life – the good and the bad – and show why Nell truly embodies the spirit of the Restoration.
Special Offer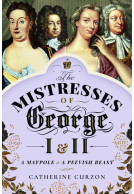 The Mistresses of George I and II (Hardback)
A Maypole and a Peevish Beast
When George I arrived in England he found a kingdom in turmoil. Mistrustful of the new monarch from Hanover, his subjects met his coronation with riots. At George's side was his mistress, Melusine von der Schulenberg, whilst his ex-wife languished in prison. Known as the Maypole thanks to her eye-catching figure, Melusine was the king's confidante for decades. She was a mother to his children and a queen without a crown.

George II never forgave his father for tearing him from his mother's arms and he was determined to marry for love, not duty. Though his wife, Caroline of Ansbach, proved to be a politically gifted queen, George II turned to another for affection. She was Henrietta Howard, the impoverished Countess of Suffolk, and she was desperate to escape her brutish husband. As the years passed, the royal affair became a powerplay between king and queen and the woman who was mistress to one and servant to another.

Melusine and Henrietta's privileged position made them the envy of every courtier. It also made them a target of jealousy, plotting and ambition. In the tumultuous Georgian court, the bedroom and the throne room weren't so far apart.
Sex and Sexuality
More recommended reading
---